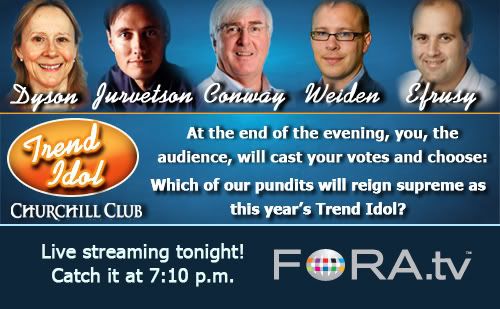 What new trends will take shape in the year ahead?
Find out at one of the Churchill Club's most anticipated programs of the year: The 12th Annual Top Ten Tech Trends Debate.
Watch this FORA.tv Premium Event LIVE at 7:10 pm on May 19th, and ON-DEMAND afterwards.
Join us as we welcome the techno-industries' leading (and most opinionated) visionaries as they make predictions for the year ahead. Our usual live audience of Silicon Valley's best and brightest—all with opinions of their own—will be asked to agree or disagree.
Speakers:
Ron Conway, Angel Investor, SV Angel
Esther Dyson, Chairman, EDventure Holdings
Kevin Efrusy, General Partner, Accel Partners
Steve Jurvetson, Managing Director, Draper Fisher Jurvetson
David Weiden, General Partner, Khosla Ventures
Moderator:
Tony Perkins, Founder, AlwaysOn
BONUS: At the end of the evening, one of the panelists will be voted this year's Trend Idol!